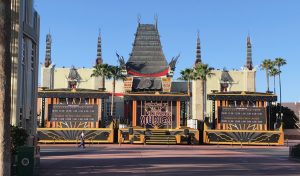 Disney's Hollywood Studios is turning 30 on Wednesday, May 1, but you do not need to be at Walt Disney World in order to celebrate. There is going to be a special presentation at 10:00 that morning, and Disney Parks Blog is going to carry the event live.
I am going to be at the park all day, covering the event for Disney Dining. I will try to add the link for the livestream to the Disney Over 50 Facebook page. If I can't for some reason, you can also catch the festivities on the Disney Parks Blog homepage.
One of the nice things about the livestream is that Disney will keep it up after the event is over. That means that you can watch when you have time. I have a feeling that it is going to be a lot of fun, and that there will be a few surprises.
A lot has happened at Disney's Hollywood Studios in the past few years, and it's only the tip of the iceberg. I, for one, an excited about the future! I look forward to sharing it with all of you.